I Understand Sheet Music
$10.00
Yes! I Understand Sheet Music!
Lyrics by Jay Woods and music by Elaine Silver.
An integral part of all services is special music. Enhance your worship experience with "I Understand" Sheet Music.  Inspired by Jay Woods' positive life skills in a poem.  The lyrics have been arranged musically by Elaine Silver for all to enjoy and can be used as accompaniment during worship services.
Description
I Understand Sheet Music for your spiritual home is available for sale here.
We offer a wide array of products from our spiritual curriculum. The book, "Yes I Understand", Gift Boxes, Bookmarks, Music CD's and Sheet Music! Along with these fine products we also offer instructional curricula and companion guides to minister the affirming concept of I Understand. Join us as we spread understanding and enlightenment throughout the world.
The vision and mission of "Yes I Understand" has been in development since the turn of the century. The poem was penned in 1999 then put into bookmark form in the year 2000. Bookmarks were later laminated in 2008 and the poem copyrighted and published in The Daily Word in March 2010. It was distributed to 110 countries in 7 languages. Since then many life path products have been created. All curriculums and products are the creative expressions of Jay Woods. The comprehensive story of "I Understand" will be told in a book, "Yes! I Understand" was published in 2017.
Also read Jay's Blog series.  A set of blog entries about the poem "I Understand".
About Jay Woods: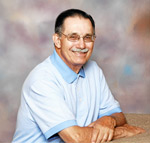 With 12 years of Catholic education and religious practice, I struggled through two marriages to raise six wonderful children. I battled alcohol addiction until I was 46. Beaten and broken I surrendered my life to a Higher Power. I found A.A, Unity, a new life and new wife.
In 1999 after meditating, I received THE GIFT OF UNDERSTANDING. Now I understand what it means to live in the flow of God's will.
My vision & mission is to teach people the life affirming principles of the poem.